Tiny House Furniture & Fitout Guide 2023
When it comes to tiny living, flexibility is key. Versatile furniture items are saviors in small spaces. In this guide we look at some trending furtinure and fit-out options for small spaces in 2023.
Customization and Built-In Solutions
One of the benefits of tiny house furniture is the opportunity for customization and built-in solutions. Since most tiny houses are tailor-made to suit individual needs, furniture can be designed to fit perfectly within the space available. Built-in furniture helps eliminate any wasted space, like awkward nooks or crannies and creates a seamless, streamlined look. 
Customization also means incorporating furniture that matches the overall aesthetic and design of the tiny house, enhancing both form and function.
Consider building in a corner couch or closet directly into the layout to save space and give your self additional storage. Built-in couches usually act also as drawers or storage for extra bedding.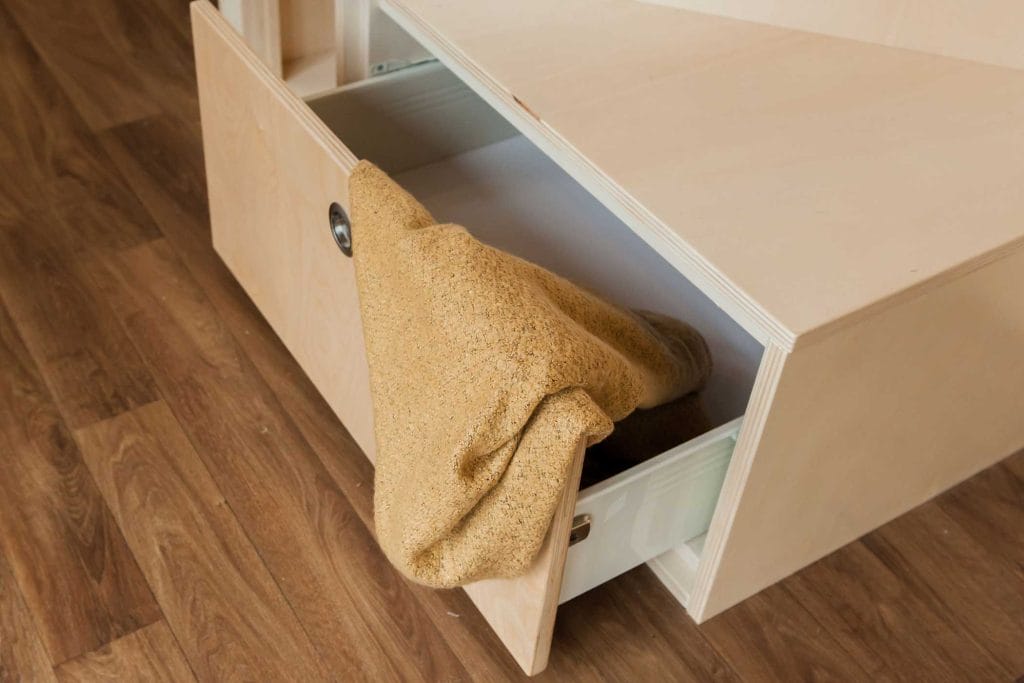 Clever Under Stairs Storage
Stairs can take up a considerable amount of room in your tiny house, where your space is already limited. So many tiny house builders have devised some ingenious ways to make the most out of their staircases. This includes installing cabinetry, draws, washing machine connections, pull-out pantries and more. 
The age-old question of whether to go with stairs or a ladder in a tiny house is one worth grappling with as there are pros and cons to both options. We'll address this in a future article, so watch this space. 
Foldable and Collapsible Furniture
From fold-out desks that convert into dining tables to wall-mounted shelves that can be folded flat against the wall, these pieces save space when not in use. They allow residents to transform their living spaces according to their needs.
Imagine your coffee table turning into a dining table.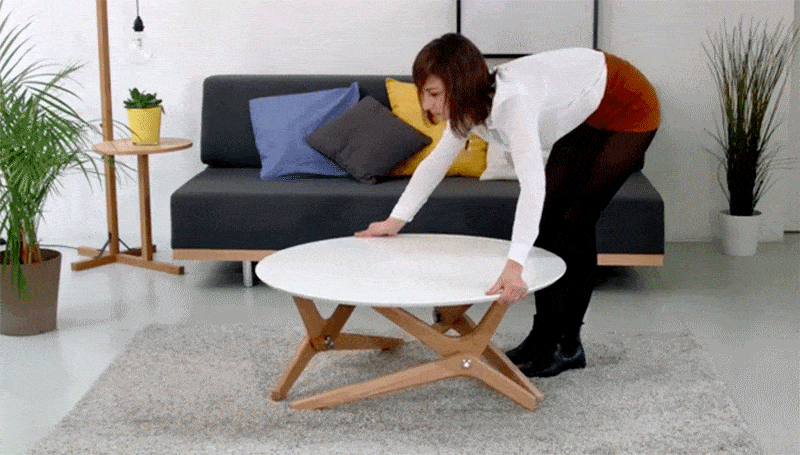 Space Saving Furniture
Now here's a great NZ comapny specialising in Tiny House Furniture. In partinular we like their Pully Laundry Rack and thier Expandable Floor Bed Base which offer excellent space-saving solutions for your tiny home. Visit the Variant Spaces online store to see what else is on offer.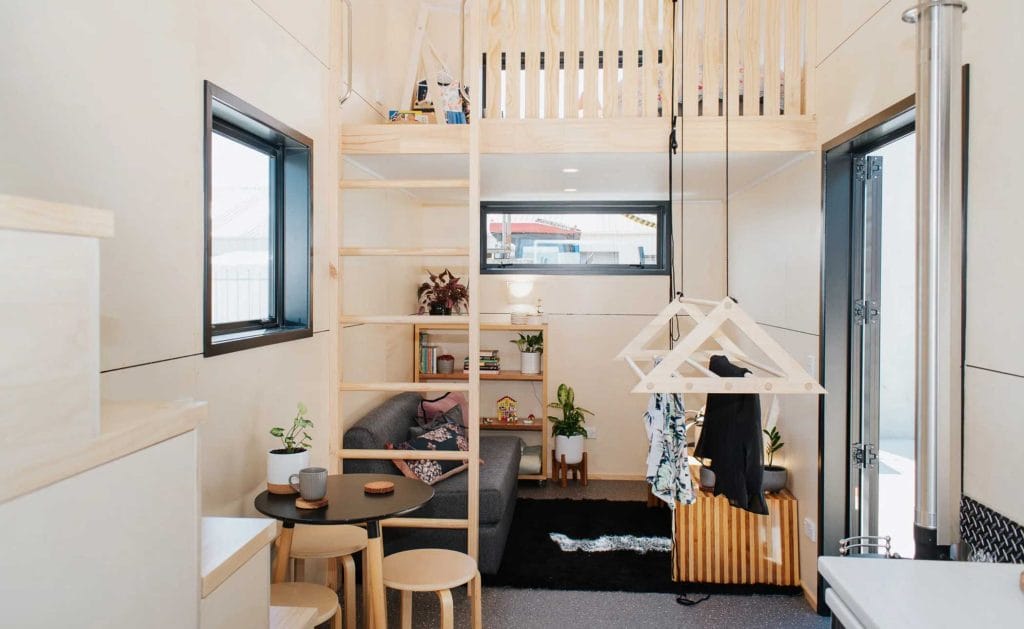 Kitchen Pantry
We need suitable storage solutions for our food items, such as cereal boxes, crackers, and baking/cooking ingredients like flour and sugar. Giving priority to the pantry when designing the kitchen for a tiny house is crucial, as it will accommodate most of the kitchen necessities and appliances. A well-equipped pantry is a key aspect of a successful tiny home kitchen, ensuring there's enough space to store all these items.
For those who prefer a more minimalist approach in the kitchen, a simple mini pull-out pantry or spice drawer with some storage boxes would suffice. 
Tiny House Appliances
With the growing trend of smaller living spaces, many companies have adapted to bring out appliances that suit tiny house living. Now there are a few considerations here. Size is apparent; space is limited; look for devices designed to work with your layout. The other concern is energy efficiency. If you're going off-grid, for example, using solar panels for electricity, choosing appliances that don't guzzle up energy is essential. 

Check out this article on the most energy-efficient appliances in 2023. We found the integrated fridges and dishwashers from Eurotech to be an excellent fit for smaller spaces. 
Wood Burners
When it comes to keeping warm in the winter, there's nothing like having a wood burner to give you the heat and ambience to cozy up on those colder nights. Given the limited space that requires heating, it's best to keep these compact and efficient. There are quite a few small-scale wood burners ranging from around $1,000—$3,500+. It's best to do some research to find out what works well for you but here are some common ones we found to save you time: 
1. Mini Meg from Roaring Meg Fires: $1,095
2. Tiny Burny from Wood Burner Stoves: $1,300
3. Petit Serene from Woodsman: $2,600 
4. Tiny Rad from Metro: $2,672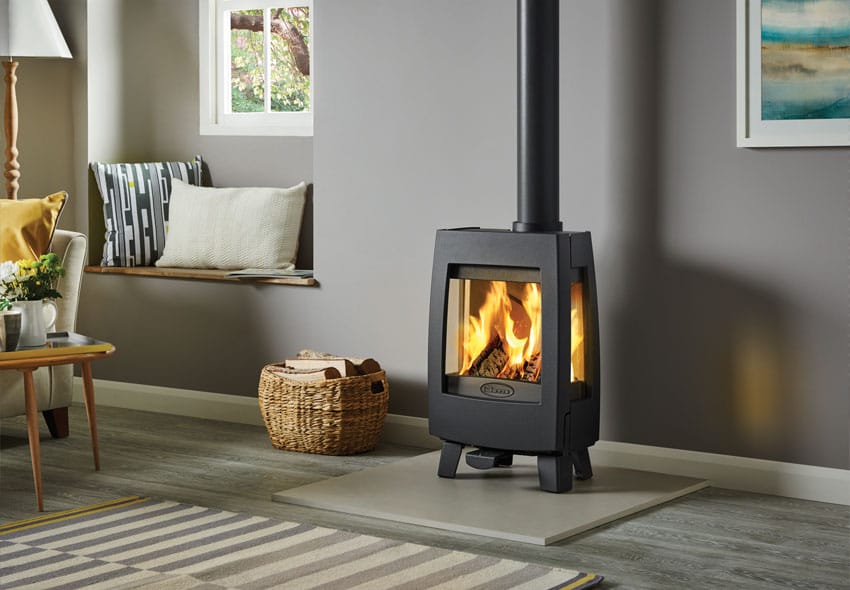 To Wrap It Up:
By combining creativity, multi-functionality, customisation, and intelligent design, tiny house dwellers can make the most of their compact homes. The growing development of tiny house furniture encourages us to reevaluate our relationship with space and possessions in favour of a more mindful and minimal way of living. 
Get in touch today to talk to our design & build team. You can see some of our recent projects here.